From the Maycock family album
From Gary Whitmore

Click on the images to enlarge the photograph.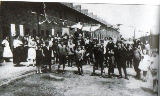 Long Row 1922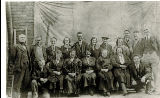 | | | |
| --- | --- | --- |
| | According to my Grandma these are people that had some involvement in a concert performed in clay cross involving local acts etc.. I believe it was taken sometime in the 1930's/40's, but the actual picture is in the process of going round several people who are relatives to the people on the picture. I can tell you off the top of my head that the tall man on the far right is Samuel Whileman, his wife Lily Whileman (nee Hardwick) is sat on the front row second from left. Her mother, Sarah Ann Hardwick (nee Wild) is the elderly lady 3rd from the right, and directly behind her the gentleman with the flat cap is Bernard Haslam. All of the previous are relatives of mine. Now the people between Bernard and Lily and Sam are members of the Cook family, I will hopefully give acurate names soon. I believe the man sat on the front row on the far left is Mr Merry, husband of Mrs Merry who is sat 4th from the left on the front row. Mrs Merry apparntly was the organiser of this concert. However I dont know her first name nor her husbands. Now the 3 people to the left of Bernard Haslam are relatives of mine, but off the top of my head I dont know there names, execpt they are some connection to the Whileman family. | |
The Maycock family

Details on Charles Maycock: Birth date: 1832 Belper, Derbyshire, occupation Coal miner.
1871 census shows Charles living in Clay Lane, Clay Cross, Derbyshire, with his wife and family occupation Coal Miner.
Death Cert - accidentally killed aged 41 yrs by a fall of bind in coal mine. Inquest held 27/06/1872. Registered in Ashover, Chesterfield no 476 on 17/07/1872.

Reported in Derbyshire Times 29/6/1872
"CLAY CROSS-FATAL COLLIERY ACCIDENT- On Wednesday morning, while a collier named Charles Maycock was at work in the Park House Colliery, belonging to the Clay Cross Company, a large quantity of bind fell upon him and killed him instantaneously. Deceased has left a widow and eight young children.


One of his sons was William Maycock, born in 1867 possibly in Heage or Clay Cross, he married Margaret Holmes born 1871 in Chesterfield. Margaret Maycock (nee Holmes) died in 1958 and her Husband William Maycock died in 1952
Their daughter was Violet Maycock

Along with Violet they had 6 other other children:
the eldest Charles Maycock born 1890
Mary Ann Maycock born 1892
Harriet Maycock born 1895
Ada G. Maycock born 1899
George A. Maycock born 1912
William Maycock born 1915 died 2002
| | | |
| --- | --- | --- |
| | Violet was born in 1905 (birth cert) she died in 1955 and is buried with her husband James Watson at St Lawerence church, North Wingfield, James is facing what use to be the Clay Cross works, ironically were he worked nearly all his life. | |
If anyone who has more infomation to add to what I have, particularlly pictures as the tree I have gone far back on, please , thank you