Clay Cross Company's - Parkhouse Number Seven Colliery.
This colliery was sunk in 1867 by the Clay Cross colliery company as their Number Seven colliery, closing in on the 12 October 1962 . After ninety five years of production. The colliery originally employing 320 men and boys, 200 of which worked at the coal face. In 1896 the colliery employed 421 underground and 96 surface workers. The manager was Mr. W.B.M. Jackson and the under-manager was Mr. A Heslington. At this time the colliery was working the Tupton and Silkstone seams.
Following Nationalisation in 1947, it became a part of the National Coal Board No1 Area which was managed by Mr. W.V. Sheppard, Area General Manager. The colliery was inspected in 1948 and the inspectors' records show that the colliery was managed by Mr. S.C. Carter with Mr. F. Brown taking the post of under-manager. It was working the Tupton seam at this stage with a workforce of 591 underground and 144 surface workers. Closing on 12 October 1962, it employed 420 men.
Parkhouse Pit Disaster - 7th November 1882
The Derbyshire Times reports of the disaster, DT-1 to DT-4.
The Times, London carried reports on the disaster, as per date.
Memorial
Below the monument is the inscription. The monument was erected at the cemetery originally, the weeping lady was on a stone column which has been removed for the safety of the public.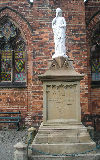 This monument is in memory of the forty five men and boys who lost their lives in an explosion at Park House Pit Clay Cross November 7th 1882 and was erected by their fellow workmen and the public 1884
Samuel Barker

Edward Barker

Phineas Barker

John Buckberry

Thomas Berry

Elias Bowler

Thomas Birkin

William Briggs

Henry Beeson

Aaron Beeson

John Beeson

Thomas Chappel

Emmanuel Clark

William Clark

Richard Dunn

Joseph Dunn

William Dunn

James Edwards

John Fowler

Thomas Goaley

John Holmes

George Hewitt

Joseph Hewitt

Thomas Hewitt

William Martin

George Mitchel

James Parker

Michael Parkin

Joseph Phipps

Owen Richards

William Renshaw

William Slinn

James Smith

Phillip Scothern

Joseph Stone

Joseph Stone

Jacob Stone

James Sims

John Stanley

William Shelton

William Squires

Richard Taylor

Richard Taylor

William Vicars

Joseph Walters
Parkhouse funeral card
Say not, they passed from life to death
Their day was night and night was day,
Where earth's black darkness held its away; and this to cease
Was passing up from death to life
Where night is day,-day without night;
In everlasting heaven'ly light, to rest in peace.